Sett Vaults Land on Arbitrum
In keeping focus on enabling crosschain utility for BTC, Badger's first 4 Sett Vaults have touched down on Arbitrum, the next generation layer 2 for Ethereum based dApps.
These new vaults combine the best of both worlds, offering rewards for early users while leveraging tried and true Badger strategies that have been thoroughly tested on ETH Mainnent.
Thanks to a partner first strategy, these Vaults were the first place on Arbitrum to deposit your Curve and Sushi LP tokens for a boosted APY.
With close to $50m TVL in just under a week, it's safe to say that users have shown great interest in capitalizing on new crosschain opportunities while taking advantage of the new rewards and yields available.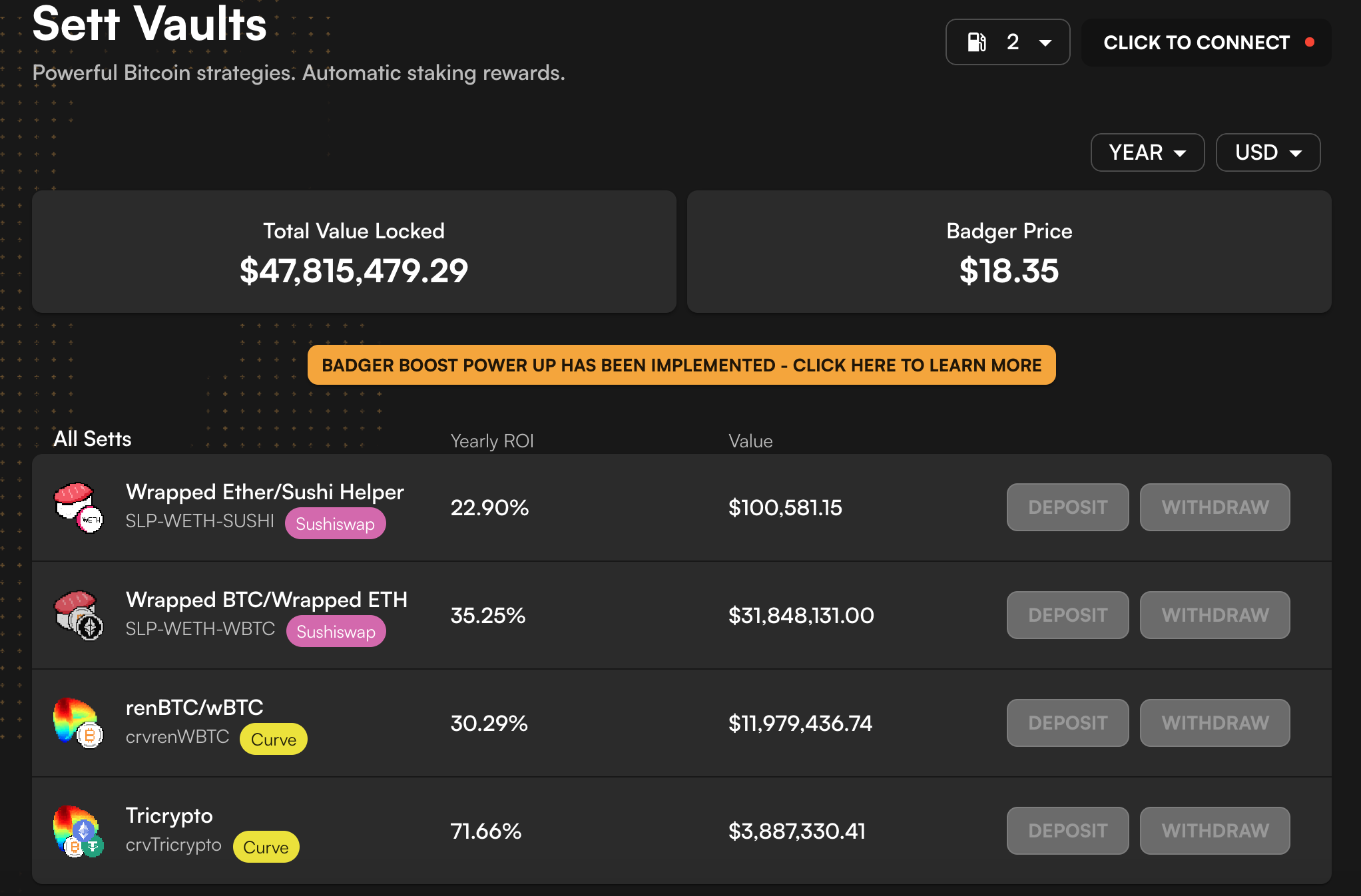 "Recently the team has placed a lot of focus on becoming more agile when it comes to crosschain expansion. With new opportunities constantly presenting themselves, we recognize that in most cases, the window to capitalize is small. We feel strongly that Arbitrum is a great step forward in our crosschain journey and a great example of acting quickly to seize opportunity while remaining dedicated to safety, security and innovation" - Spadaboom
Already an active Badger user? Great news. Badger Boost is valid on Arbitrum. This means that users' boost multiplier will apply to all new vaults based on their ETH Mainnet Badger and DIGG Holdings, providing significantly boosted rewards crosschain.

To learn more about how to bridge your assets and deposit on Arbitrum, check out the user guides below.
About Arbitrum
Arbitrum is an L2 scaling solution for Ethereum, offering a unique combination of benefits:
Trustless security: security rooted in Ethereum, with any one party able to ensure correct Layer 2 results
Compatibility with Ethereum: able to run unmodified EVM contracts and unmodified Ethereum transactions
Scalability: moving contracts' computation and storage off of the main Ethereum chain, allowing much higher throughput
Minimum cost: designed and engineered to minimize the L1 gas footprint of the system, minimizing per-transaction cost.
Some other Layer 2 systems provide some of these features, no other system offers the same combination of features at the same cost.