BadgerDAO is a community-driven organization, and we encourage collaboration, cooperation, and discussion. Our brand is important to us, so we ask that our community, partners and press represent it accurately and consistently. Here are a few tips for how to use the BadgerDAO brand, and some assets to get you started.
The BadgerDAO Name
We are BadgerDAO – no space. We're proud to be a distributed autonomous organization, and the "DAO" in our name is an important part of the identity of our organization and our community. Sometimes we refer to ourselves and our community as "Badgers", so please feel free to do so as well.
Our native governance token should be referred to as BADGER, both to follow the convention for token symbols, and to distinguish it from the BadgerDAO organization. Our other tokens, ibBTC and DIGG, follow standard token naming conventions as well.
BadgerDAO Logo
Our logo pairs our name with our namesake badger, both rendered in an 8-bit retro style. There are two versions of the logo available, one with white text and one with black text, suitable for light and dark backgrounds, respectively. We occasionally use the badger on its own as a logomark. We ask that you not alter our logo, we're quite fond of it the way it is.
Example usage: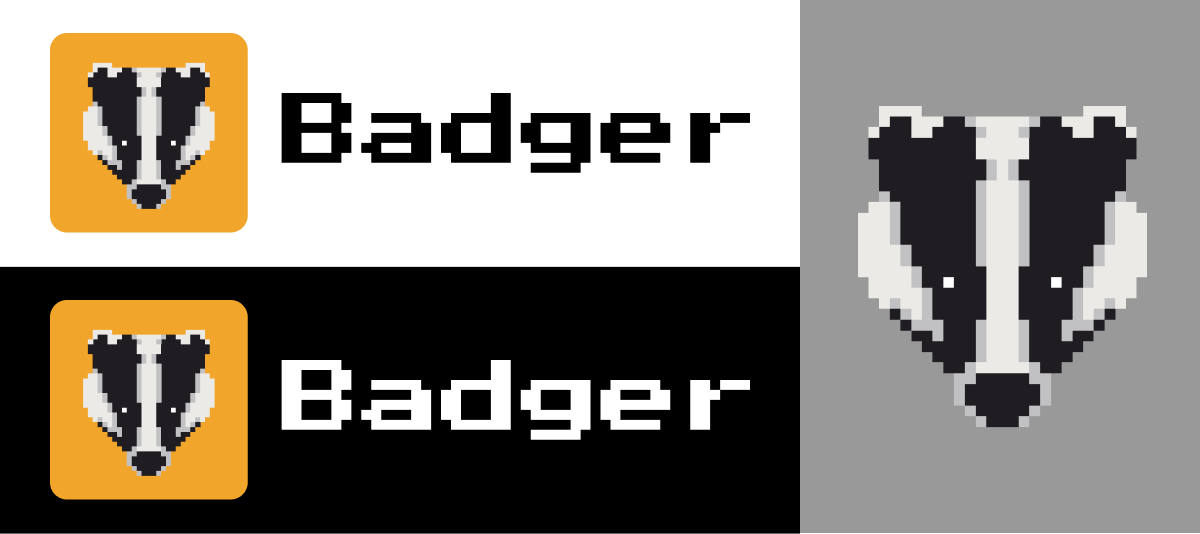 Token Icons
The following icons are provided for use when displaying information about any of our tokens: BADGER, ibBTC  and  DIGG.

Brand Colors
Our primary brand color is Badger Gold. Is it orange? Is it yellow? It's neither, it's Badger Gold.
We often pair Badger Gold with Dark Charcoal, Black and White.
Hex and RGB color codes:
Hex: #f2a52b, RGB: 242, 165, 43
Dark Charcoal: Hex: #1b1b1b, RGB: 27, 27, 27
Black: Hex: #000000, RGB: 0, 0, 0
White: Hex: #ffffff, RGB: 255, 255, 255

Typography
BadgerDAO's mission is to bring Bitcoin to DeFi, so naturally we've chosen Satoshi as our brand typeface, which shares its name with Satoshi Nakamoto, the pseudonymous figure (figures?) who created Bitcoin. It is available in five weights, includes true italics, and works equally well for large type-driven designs, headlines and body copy.

Our retro, 8-bit styled creations are set in Pixel Operator HB.

Downloadable Archive
For your convenience, we have assembled a downloadable archive of all of the brand assets mentioned here.
Recommended Topics